Alexandra & District Open Gardens
Saturday 23rd & Sunday 24th October 2021  *  10am - 4pm  *  Come ... be inspired!
Founding Members Alma Hexter & Gwenda Martin
In 1991, two local ladies, Alma Hexter and Gwenda Martin, planned the first open garden weekend in Alexandra to raise funds for Alexandra Community Care. That first year, 16 gardens were open, some planted more than a century ago. Alma designed a booklet to guide visitors to the unique mix of town and country gardens and the concept of an open garden weekend in this area was established. The success of that first open garden weekend resulted in what has become an annual event in the Alexandra district. Over the years the number of display gardens has varied reaching an astonishing 23 on one occasion.
Since its inception, well over 110 different garden owners have generously shared the beauty of their gardens with local residents and visitors. Profits from this event have been contributed back into the local community and tallies more than $120,000 to date. What a great tribute to the wonderful foresight and enterprising energy of Alma and Gwenda.
Gwenda still lives in Alexandra and continues as an active member of the Open Gardens Committee. Her knowledge, contribution and experience gained over many years is highly valued.  Gwenda is the only recipient of a Life Membership of this committee.  Sadly Alma passed away in 2015 but the longevity and the success of the Open Gardens Weekend is a wonderful tribute to her.
We sincerely thank both Alma and Gwenda for creating this unique and popular event that has endured over many years.
Congratulations Alma & Gwenda!
---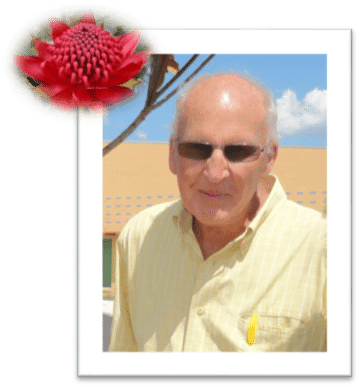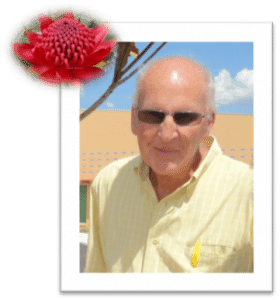 Geoff Olive, Member of the Alexandra & District Open Gardens Committee until September 2016.
A kind, warm & generous man who shared his knowledge and love of horticulture with us all.
A small piece of Geoff lives on in all our gardens.
---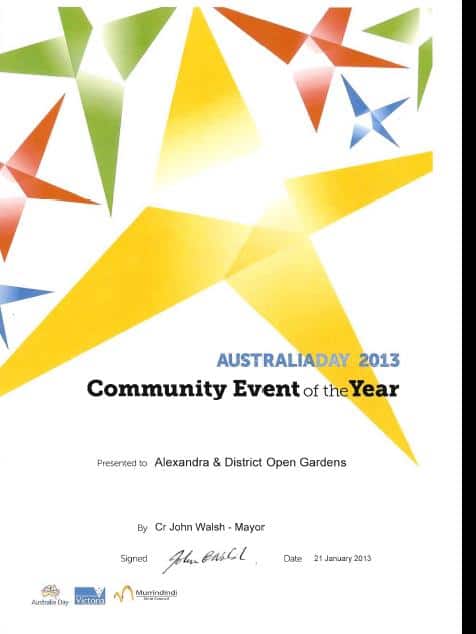 President - Cally Sinclair
Secretary - Keir Jones
Treasurer - Janene Simpson
Committee Members - Gwenda Martin, Kim Pammer, Lynne Phelps, Margie Creighton, Louise Flowers, Jenny Fisher, Jill Olive, Noel McIlwraith.
Now in its 29th year, the Alexandra & District Open Gardens Weekend offers 10 gardens ranging from small manicured town spaces to expansive country properties set amidst the magnificent backdrop of the Blue Range, rolling green hills and river valleys.
Held each year in late October, the Open Gardens weekend celebrates the countryside at its most beautiful.  Expect to see gorgeous spring blossoms and foliage, exotics and natives.  Experience remarkable views, pristine air and a warm country greeting at each open venue.
Less than two hours from Melbourne, visitors are encouraged to plan ahead and allow two days to enjoy the gardens with numerous attractions at many venues.  Come ...... be inspired!
---
Allocation of Funds from Open Gardens 
* Labels for significant trees in Perkins Street and Jack Shiel Garden *
* Tables and bench seats in Jack Shiel Garden Alexandra *
* Rotary Park Upgrade *
* RSL Garden *
---